I am guest blogging at Allison's 'A Glimpse Inside' today.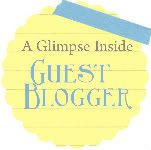 M
y friend Sandy from Sandy's Space is sharing a great tutorial on a mini album. She is a very talented card crafter! Here you go.
Hi everyone, this is

Sandy Ang

from the sunny, little island of Singapore. I am a paper-based crafter who loves card-making, paper construction and creating altered objects. Inspiration comes to me from varied places : from pretty scrapbooking paper, through Japanese origami, to fashion and graphic design. You can find more of her design ideas and step-by-step tutorials on her

blog
.
Today I'm sharing my vacation video disc holder cum mini-album.
The holder is made from folding one long strip of paper. It ends up 6"x6" and here's the cover. The blues, greens and yellows perfectly conveys the mood of my London : densely packed, slightly gritty and endlessly intriguing. I complemented it with a graffiti-like font for the titles.
Inside my 48 Minute video disc sits in a triangular pocket of city building blocks. It was my first time behind the lens and I had a blast with my friend's Cannon EOS 5D Mark I. There's the ususal jerkiness of handheld shooting but my friend played with that in editing really cleverly.
On the flip side is the other vertical two-pager where I journalled what was most memorable about the trip. If anyone's interested in what's on my top 10 list, just click on the photo for a larger image.
Thank you Simone for the chance to guest on Doberman's by the Sea.
Thank you Sandy, now everyone hop' on over and say Hi to Sandy.